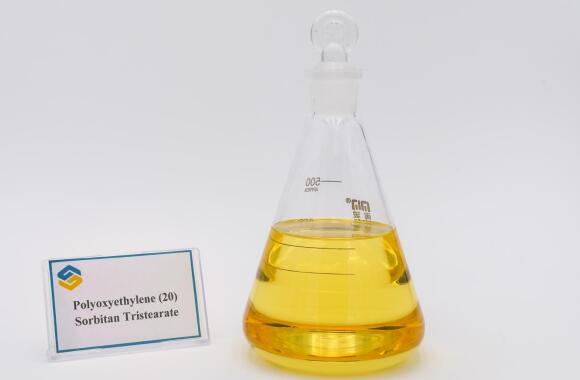 Polysorbate 65 is also known as polyoxyethylene sorbitan tristearate, dehydrated sorbitan tristearate polyoxyethylene ether, T-65 emulsifier.

Polysorbate 65 is produced in the addition reaction between sorbitan tristearate and ethylene oxide with sodium hydroxide as the catalyst.
Main applications:
It can be used as emulsifier, stabilizer, wetting agent, diffusion agent, permeability agent, etc.
It is mainly used as oil-in-water emulsifier for creams and lotion cosmetics, as well as thickening agent.
It can be used as wetting agent, paraffin inhibitor for oil field.
Physical and Chemical Properties:
CAS:9005-71-4
Apperance:amber oily viscous liquid
Density:unknown
Relative density:unknown
Melting point:about 30 ºC
Boiling point:unknown
Flash point:>120°C (Closed cup)
Inflammability (solid, gas):unknown
Vapor pressure:<1.33hPa
Vapor density :unknown
Molecular Formula :C100H194O28
Molecular weight:1842g/mol
Partition coefficient; n-octanol/water :unknown
Upper explosion limit (%):unknown
Lower explosion limit (%):unknown
Solubility:Soluble in ethanol and ethyl acetate. Slightly soluble in mineral oil and vegetable oil. Can be dispersed in warm water