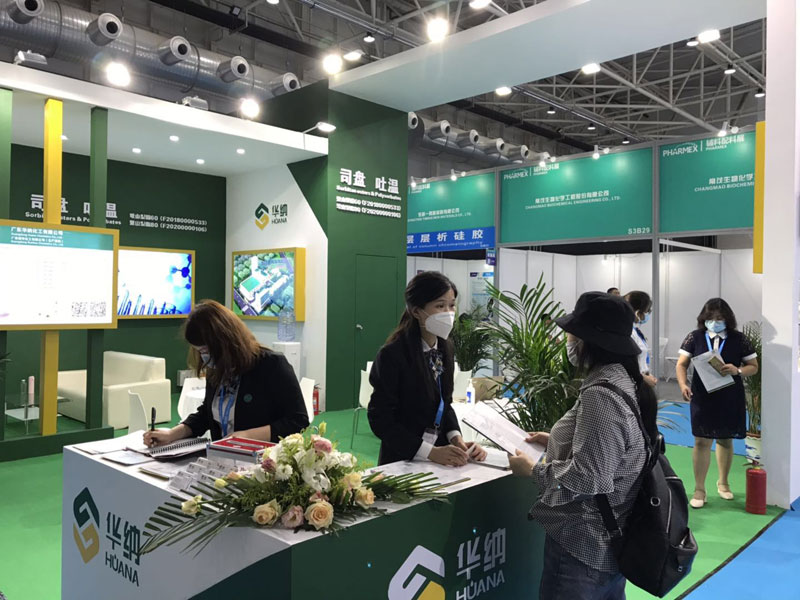 On June the 9th and 11th, Huana Chemistry participated in the 84th Active Pharmaceutical Ingredient (API) & PHARMEX & PHARMPACK & SINOPHEX (API China) trade show in Qingdao, China. The API China is a platform where professionals in R&D and production from pharmaceutical, cosmetic, and health product industries from across the world gather together. This is the largest pharmaceutical exhibition that covers a complete industry chain in China.
This was the 9th time Huana Chemistry participated in the API China trade show and it was the first trade show the company took a part in after the COVID-19 pandemic. The number of local companies and guests that attended the show was no less than the previous years. We received numerous new guests from pharmaceutical companies, who are looking for high quality and qualified emulsifiers for the development of pharmaceutical intermediates. 27 years of dedication in the development and production of polysorbate and sorbitan ester have earned us a number of new collaborations. Meanwhile, a few of our old clients came by our booths to let us know about their latest developments and some great feedback about the performances of our products.
It was a great chance for us and the chemical industry to know that the market and demand are growing at a steady pace. However, due to the pandemic, we missed the opportunity to meet and communicate with our oversea guests and clients. We hope we can see the end of the pandemic soon, so we can all meet and gather in the next trade show.