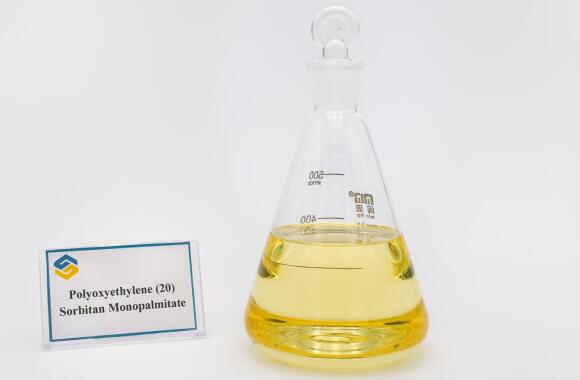 Polysorbate 40 is known as polyoxyethylene sorbitan monopalmitate and tween 40. It is a yellow to orange oily liquid or paste. It's soluble in warm water, methanol, ethyl acetate and insoluble in mineral oil and vegetable oill. It's oil-in-water(O/W) type emulsifier, which can be used as stabilizer, solubilizer, diffusion agent, antistatic agent, fiber lubricant etc. Polysorbate 40 is made out of sorbitan monopalmitate and ethylene oxide by three steps known as polyoxyethylene 20 sorbitan monopalmitate.
Physical and Chemical Properties:
CAS No.: 9005-66-7
Relative density:1.07~1.10
Acid value (mgKOH/g): ≤2
Hydroxyl value (mgKOH/g): 90~107
HLB value:15.6
Saponification value (mgKOH/g): 41~52
Moisture %: ≤3
Polysorbate 40 is approved in Europe as a food additive and is included in FDA's inactive component guidelines (for intramuscular injection, intravenous injection, oral, topical, rectal and vaginal preparations). Polysorbate 40 is licensed in the United Kingdom for use in injectable and non-injectable preparations.