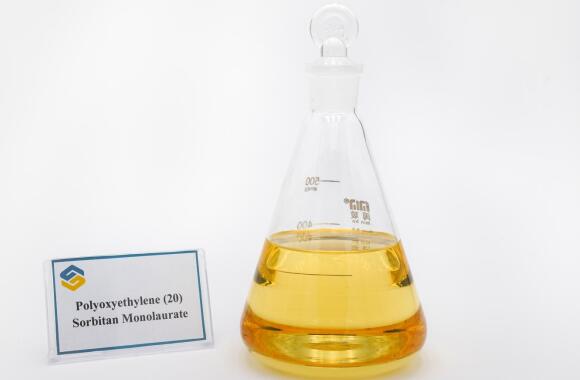 Polysorbate 20 is a yellow to orange oily liquid, which has a faint odor and a slight bitter taste. Its relative density is 1.09-1.12 (20°C), boiling point is unknown, flash point is >120℃(closed cup), viscosity is 250-400mm2/s@25°C, molecular weight is 1226.48g/mol and molecular formula is C58H114O26. Polysorbate 20 contains relatively more hydrophilic groups, which allows it to be soluble in water, methanol, ethyl acetate and toluene(methylbenzene) and insoluble in mineral oil and vegetable oil. Its HLB is 16.7.
Polysorbate 20 can be used as solubilizer, dispersing agent, stabilizer, antistatic agent and lubricant. It is an oil-in-water (O/W) type emulsifier that can be used as mineral oil emulsifier, cosmetic emulsifier, pharmaceutical emulsifier, dye co-solvent, foam stabilizer, photographic emulsion additives, shampoo viscosity adjusters, spinning oil in the anti-static silk synergist, fiber processing additives. Polysorbate 20 is especially suitable for use with sorbitan laurate.
The main role of polysorbate 20 in cosmetics and skin care products is emulsification, which reduces the surface tensions between components in an emulsion and hence creates an even and stable dispersion system or emulsion system. This property enhances and promotes the absorption of beneficial substances in skincare products.